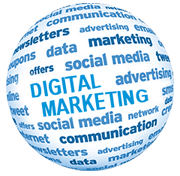 We are an Email marketing business partner providing a wide range of IT solutions and services to small and medium businesses.
We provide service to retail, medical, wholesale, construction, agricultural, legal, non-profit, and others.
Our mission is to make your assets secure, reliable, and perform well so that your business can be successful in today's business world. We can fully manage your resourses, so you can manage your business effectively.
We can serve as your virtual IT department to help you solve your technology headaches and reduce operating costs.
Idea behind Skylex Technologies:
All great ideas are born out of desperation. We were desperate!
You would identify with this too if as a professional web developer or marketing manager you have burnt your fingers trying to run an email based promotion such as a marketing campaign or a newsletter. Whether for your own self or for a client, did you bend over backwards trying out different tools and options to develop and run a successful promotion? Were you satisfied by what you achieved or did you feel that the fizz was missing? Somewhere the design element was lacking the zing or was there no bang when the campaign hit the market? Did you think you could have done more? Did you feel helpless at your inability to pin down why you didn't hit the bull's eye?
We felt it too! So we rolled up our sleeves and decided to do something that would give that extra kick to the campaign. Thus INBOXOPS was born! to overcome helplessness and put the power to do things your own way in your hands!
When we developed our first version, it was a tool that was used to manage (and still does) email based communication campaigns. However, with an eye on the going ons in the market, we foresaw the need for a product, that offered the intelligence to read a customer's mind and take concrete decisions through our state of the art analytical structure. A product that would make our e-marketers as efficient as a genie when it comes to sending millions of emails in a time span of hour/s. Thus Skylex Technologies in its present avtar was developed; extensively tested and finally offered to the public.